This is part of a quote from the Preamble of the United States Constitution...a brief introduction to the Constitution.
| | | |
| --- | --- | --- |
| " | We the People of the United States, in Order to form a more perfect Union, establish Justice, insure domestic Tranquility, provide for the common defence,[1] promote the general Welfare, and secure the Blessings of Liberty to ourselves and our Posterity, do ordain and establish this Constitution for the United States of America. | " |
I am not going to talk about this Preamble, but am actually "borrowing" this phrase to post about what Mr. B and I have together...
(at his family's Hawaiian wedding luau...his mom sewed his shirt and my blouse.)
This was the first time that I was able to meet many of his family and friends.
We are definitely not perfect by any means! Even when circumstances are not perfect or when our actions, words, thoughts are not perfect...
But by the grace and love of God, we have a "perfect union".
Through many Ups and downs, I am so blessed to know that Mr. B will listen to me

whine

, I mean- listen to my concerns. There are times of disagreements and times of irritations, but I love the many more times when we find ourselves think, feel or say something in the "exact moment"! (There are times that I make a mistake ...forget, misplace or lose something, and of course, Mr. B just happens to be there! <*That does drive me nuts!*
But he loves me, in spite of my imperfection :o)
We were mere babes when we met and got married! You can read about how we met
HERE

.

And on this

post

,you can read just how quick he was to ask me to marry him. After 28 years of marriage, we have grown together... and continue to grow together.
"What therefore God hath joined together, let not man put asunder. "
Mark 10:9
Here is our most recent picture.
...I got him right when he came home from work!
& before he was able to change to mow the lawn...
(this is after the 4th deleted photo! haha)
When I look at him, I feel that I am blessed! And even though, it is great to feel comfortable with each other like a favorite blanket, it is also exciting to still have the feelings of "first love" for each other too!
Thank you for allowing me to stretch it a bit by using this "

U

" post to share a bit more about

U

s,

U

sing the "

U

" word

U

nion :o)
Jenny's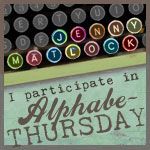 (...I had another U post started, but am waiting for a few photos, so will finish that post another time)
More drawings drawn for other couples' wedding or anniversaries:
Each are drawn using their names.
"I would like to order another wedding picture for the following..."
Thank you for another order from a long time, repeat customer...
...who has ordered these for friends since 1994!
This is another recent order, it is of a Lladro figurine.
Thank you for your email:
"Just want the thank you and tell you the picture is beautiful and I am excited about giving it to them for the wedding."
This wedding monogram is the 2nd one from a wonderful customer.
"...
I ordered an original print from you back in November for my parent's anniversary. They LOVED it and everyone has been so impressed by the work that you do...I would like to order another print from you, this time as a wedding gift..."
..This is the first one that was for her parent's anniversary.
This monogram is the most recent order from Kim.
"...

I'm back....and hoping to place another order!..."
(Remember to check back on my future 100th post...for giveaways of a couple of drawings and I also will be picking from the comments left a number of % off certificates towards drawing orders.)
...I also am joining in for the first time with Heather, Evonne, and Steph in their 2nd week of: